WELL-BEING AT CLUB MED
Go after those pesky little tensions, gently rediscover muscles you forgot you had, learn how to breathe again…Between the care offered in our Spas and the relaxation activities included in your package, you have everything you need to let yourself be carried away.
---
THE BIGGEST NAMES IN WELL-BEING
with all the little pampering extras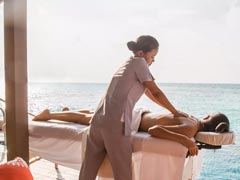 A moment of relaxation while watching the sun set, an essential oil treatment after a long day on the slopes…The Spa at Club Med features that little extra something. Undoubtedly because we've decided to entrust your unwinding to the biggest names in beauty and well-being. Don't forget to reserve your Spa sessions at the same time as your holiday
---
YOGA
the great wellness classic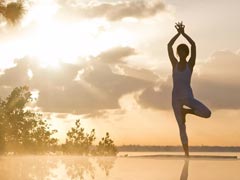 It's not surprising that yoga has been making a comeback these past few years…focusing on your body, mind, and breathing, it's a powerful shield against stress and anxiety. Ashtanga yoga, Kundalini Yoga, Bikram yoga, Vinyasa yoga, yoga nidra…Whether you're looking for an intense and energetic approach or a more subtle workout, doing yoga is always a good idea (especially since the classes are held on the beach).
---
THE SAUNA AND HAMMAM
to let stress literally melt away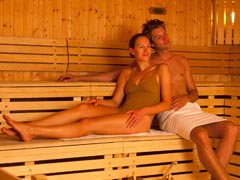 There's something instantly relaxing about the sauna and hammam ritual. The sauna is synonymous with soft light, a slightly woody smell, the subtle hissing of water evaporating on contact with the hot stones, a dry and enveloping heat…and of course, the shock of a bucket of cold water between each sitting (it's invigorating). The hammam is a bath of wet steam that welcomes you like a soft cocoon, with the only requirement being to let yourself be swept away to a distant land. Both are the perfect bookend to a long day spent at the beach or on the slopes. Please note that this activity is offered either with or without an additional charge, depending on the Village.
---
PILATES
to gently build muscle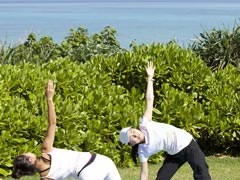 Pilates is the perfect mix of relaxation and strength training, which might just be why it so popular. Inspired by yoga, dance, and fitness, this gentle yet intense technique harmonises your breathing and posture. It's the ideal exercise for eliminating the stress that's built up from sitting in your office chair all year long.