CLUB MED KANI MALDIVES
Dive in to an amazing holiday in paradise where marine life encounters and endless turquoise vistas thrill all the senses
---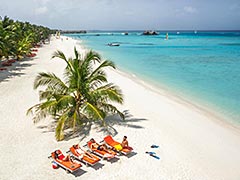 Dive in to an amazing holiday in paradise where marine life encounters and endless turquoise vistas thrill all the senses. Discover new ways to play and unwind at Club Med Kani Maldives Resort. With seemingly infinite possibilities to ignite excitement and pursue your passions, revel in the best Maldives all-inclusive resort amid 2-kilometres of powdery white beaches, swaying palms, and exhilarating underwater adventures. Whether partaking in new pursuits or diving into a favourite pastime, the resort's unmatched offerings make every day worth celebrating. From snorkelling with schools of tropical fish, to paddling through crystal clear waters, or dining on international culinary creations and freshly caught seafood, a holiday here is simply unforgettable.
---
BARS
Included: Drinks served by the glass and at the bar only: water, fruit juices and sodas, hot drinks and cocktails with and without alcohol, wines and local and international spirits.
A selection of sweet and savoury snacks.
With Supplement: Champagnes, VSOP and XO spirits, bottled and canned drinks are available from vending machines in some of our Resorts and/or at the Club Med Boutique. Certain super-premium brands and bottled wines are also available à la carte in some of our restaurants and bars.
---
The Sunset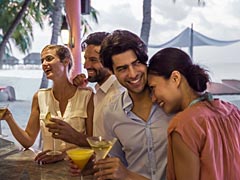 Whether for a cooling libation by day, or a wind-down beverage as evening approaches, take in peerless views of the stilted, Maldives water villas and glittering lagoon from this relaxing reprieve.
---
The Iru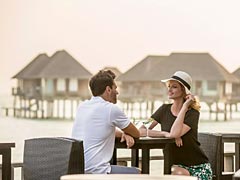 Set along the lapping waters of the peaceful lagoon amidst the perfect Maldives weather, The Iru is the perfect place to enjoy a refreshing beverage amidst comfortable modern seating on the sand. Under the shade of swaying coconut trees, The Iru bar is a restful reprieve for a freshly mixed or poured libation.
---
RESTAURANTS
Delight in a variety of dining options to suit every taste—morning, noon, or night. From casual small plates to international cuisine and waterfront views, each restaurant offers something for everyone.
---
The Vehli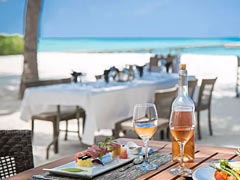 Savour from the selection of delicious international and traditional Asian dishes, as well as healthful options, on offer at The Vehli. Served buffet style, guests can sample from a generous variety of dishes. Dine out in the refreshing open air along the terrace and enjoy a memorable meal together.
---
The Kandu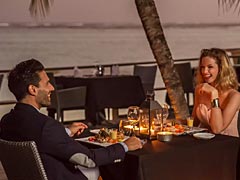 Set in the shade along the azure waters of the lagoon, encounter a relaxed yet refined dining experience for all the senses. The Kandu offers a la carte and buffet breakfast menu options such as fresh fruits and pastries, cereals, pancakes, and egg dishes. The restaurant also serves two evening menus, including one lobster menu served with foie grass or sashimi. To drink, beverage selections include wine, beer, and soft drinks.
---
The Kaana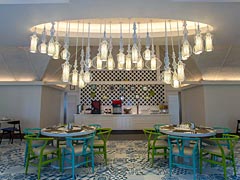 Specializing in light bites, Kaana offers a delicious selection of Asian soups, tapas, sandwiches, and a variety of small plates to savour. Open all day and into the evening, this restaurant's casual yet sophisticated backdrop invites memorable meals shared together.
---
ACCOMMODATIONS
Located in the heart of a private island in the Maldives, Club Med Kani invites guests to choose from its vibrant yet cozy accommodations set in either the lush natural gardens or directly on the sandy beach with unspoilt ocean views.
---
Club Room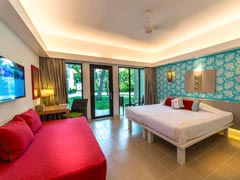 Adorned in vibrant, ocean-inspired hues with a third bed for an additional guest or child, the Club rooms are available with scenic garden or breezy beach views. With a well-appointed bathroom, ample storage, a wall-mounted TV, vanity area, and either a spacious balcony or terrace, days of excitement are followed by nights of pure relaxation in the most comfortable Maldives accommodation.
---
Deluxe Room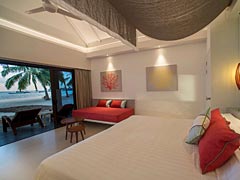 With even more space to stretch out and enjoy, the Deluxe rooms feature expansive outdoor terraces directly on the beach for easy access to ocean swims, relaxing walks along the shores, and perfect for taking in peerless views. For added convenience, the well-appointed bathroom connects to an additional outdoor shower area for freshening up, and the room comfortably sleeps up to 3 persons.
---
KIDS
Resort welcoming children from age 2, with children's activities from 4 years old
Happy children's corner (Included)
At Club Med Kani, children enjoy a place all their own. Children aged 4 to 10 and 11 to 17 can take part in a variety of games, sports, and creative activities with a dedicated G.O® by their sides every step of the way. Here, young adventurers can learn through play with activities such as cooking lessons, face painting, sandcastle making, and coral propagation. Children ages 6 and up can even dive into challenging water sports like sailing and kayaking.
---
ACTIVITIES
Dive into the excitement with Club Med Kani's unmatched water sports and activities. Offering group lessons and guidance for all skill levels, beginners and experienced athletes alike can enjoy state-of-the-art equipment and exclusive guidance from knowledgeable G.O.®s. Club Med is the largest sports school in the world with over 60 sports taught worldwide. At our Maldives resort, the sailing and fitness schools are unparalleled.
Service Included: Fitness School, Sailing School, Badminton, Beach soccer, Beach volleyball, Snorkelling (from 11 years old), Table tennis, Yoga, Waterpolo, Aquafitness, Weights & Cardio room, Kayak, Swimming pool, Stand up Paddleboarding.
Service Extra Charge: Scuba diving, Waterskiing & Wakeboarding, Big game fishing, Surfing, Flyboard.
Welness Mandara Spa: Retreat to a blissful spa escape to pamper the soul and rejuvenate the body. Step into a space of pure relaxation where a variety of body and beauty treatments have been created with you in mind.