CLUB MED FINOLHU MALDIVES
Nestled on the private, beautifully preserved island of Gasfinolhu in the heart of the Indian Ocean, our ecologically conscious Maldives all-inclusive resort is surrounded by natural splendour at every turn. With butlers available to assist with any need or request, redefine your idea of paradise at the award-winning Finolhu Villas.
---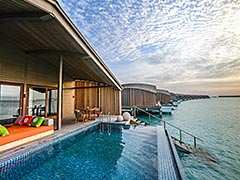 Discover a discreet yet extravagant private island retreat in the Maldives. Nestled amidst idyllic natural surroundings, the award-winning Finolhu Villas offer unspoilt vistas, exceptional dining experiences, and a wealth of adventuresome pursuits. Exceptional in every detail, from the stunning overwater architecture to the intuitive, discrete service of our butlers, each moment in our Maldives all-inclusive resort paradise in truly unforgettable.
---
BARS
Included: Drinks served by the glass and at the bar only: water, fruit juices and sodas, hot drinks and cocktails with and without alcohol, wines and local and international spirits.
A selection of sweet and savoury snacks.
With Supplement: Champagnes, VSOP and XO spirits, bottled and canned drinks are available from vending machines in some of our Resorts and/or at the Club Med Boutique. Certain super-premium brands and bottled wines are also available à la carte in some of our restaurants and bars.
---
The Poolside Bar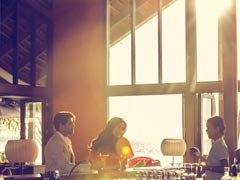 Sip a perfectly mixed, tailor-made cocktail at our relaxing poolside bar. Our talented bartenders prepare creative beverage options from a rotating menu to tempt every taste. Guests may also enjoy a wine tasting or a glass of chilled Champagne by the pool or in the shady villa, served by a personal butler.
---
The Iru at Club Med Kani Resort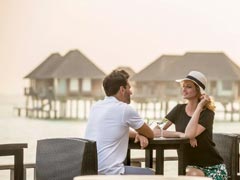 Set along the lapping waters of the peaceful lagoon, The Iru is the perfect place to enjoy a refreshing beverage amidst comfortable modern seating on the sand amid the pristine Maldives weather. Under the shade of swaying coconut trees, The Iru is a restful reprieve for a freshly prepared libation in nearby Club Med Kani.
---
The Sunset at Club Med Kani Resort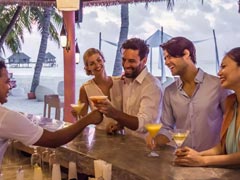 Whether for a cooling libation by day, or a wind-down beverage as evening approaches, take in peerless views of the stilted, Maldives water villas and glittering lagoon from this relaxing reprieve.
---
The Motu Bar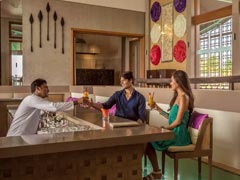 Located inside The Motu restaurant, the bar offers the perfect venue to sip a pre-meal aperitif or top off a gourmet dining experience with an evening nightcap. To elevate this experience, guests enjoy a surprising view of the ocean life below through a stunning glass floor. This is truly one of the best resorts in Maldives.
---
RESTAURANTS
Take in the majestic vistas of the Indian Ocean, incomparable sunsets, and relish pristine Maldives weather while savouring from a selection of delicious cuisines, as fresh as the island breeze. Whether at our signature restaurant or at the restaurants of our neighbouring, Club Med Kani, enjoy a memorable dining experience.
---
The Motu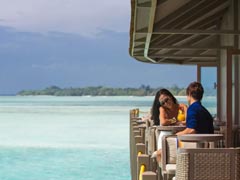 With an idyllic setting overlooking the sparkling waters of the Indian Ocean, Maldives honeymooners will relish a romantic dining experience that is truly unforgettable. The Motu chefs prepare a selection of inspired international culinary creations that change daily to tempt every palate. The restaurant offers a casual setting by day and fine dining by evening, and its central bar offers a window to the ocean world below through a special glass floor. Whether in either of two elegant dining rooms, one that enjoys cool air conditioning, or out on the scenic terrace suspended over the ocean, a meal here is sure to delight.
---
The Kandu at Club Med Kani Resort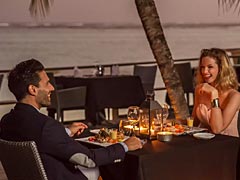 Set in the shade along the azure waters of the lagoon, encounter a relaxed yet refined dining experience for all the senses. The Kandu offers a la carte and buffet breakfast menu options such as fresh fruits and pastries, cereals, pancakes, and egg dishes. The restaurant also serves two evening menus, including one lobster menu served with foie grass or sashimi. To drink, beverage selections include wine, beer, and soft drinks. The Kandu is located conveniently nearby at the Club Med Kani Maldives Resort.
---
The Velhi at Club Med Kani Resort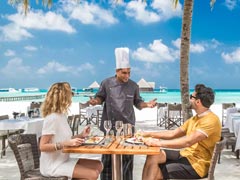 Savour from the selection of delicious international and traditional Asian dishes as well as healthful options on offer at The Vehli. Served buffet style, guests can sample from a variety of dishes including those from India, Japan, Italy, and the West, as well as a traditional Maldivian breakfast on special days. Centrally located at the nearby Club Med Kani, Maldives all-inclusive resort, dine out in the refreshing open air along the terrace and enjoy a memorable meal together.
---
ACCOMMODATIONS
Situated on Gasfinolhu—a beautifully preserved island in the Maldives—Club Med's Finolhu Villas exceed all expectations of a luxury resort. A haven of modern sophistication and an elegant retreat for Maldives honeymooners seeking the finest amenities and services, each of its 52 private villas rests on stilts or on the beach and has its own terrace and private pool to enjoy.
Designed by award-winning Japanese architect, Yuji Yamazaki, the stilted Maldives water villa architecture is thoughtfully eco-conscious with its 6,000 sq. m. of solar photovoltaic panels—enough to power much of the island's requirements with natural sunlight. French interior designer, Meriem Hall, brought to life the concepts of beauty, nature, elegance, and memories in each of these impeccably designed villas. Built on an expansive 5-hectare lagoon, the Finolhu Villas Maldives all-inclusive resort invites guests to enjoy a dedicated welcome lounge, gourmet restaurant, and magnificent poolside bar, as well as tennis courts, a fitness room, Club Med Spa by ILA, and a pontoon for leisure and water sports. Please note: The Villas are not accessible to guests with reduced mobility.
---
Beach Villa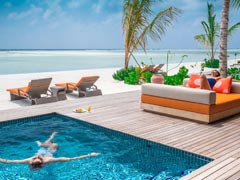 Nestled atop powdery white sand, each of our beach villas feature a private pool, a spacious sun terrace, and an outdoor shower for freshening up after days under the sun. Indoors, this one-bedroom Maldives accommodation features plush bedding and a spacious bathroom with a separate shower and bathtub. Entertainment options include televisions, WiFi access, and MP3 connectivity. For any need or request, the butler is available to provide added convenience.
---
Sunrise Overwater Villa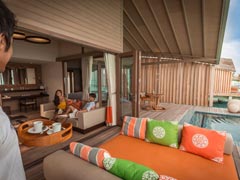 Suspended above the crystal waters of the turquoise lagoon, step down into the cooling waters below from this secluded Maldives water villa retreat. Awaken each morning to vibrantly hued sunrises from the daybed on the terrace, which features a swimming pool, or from the open-air bathrooms with stand-alone bathtubs for ultimate relaxation. Plush bedding, entertainment options such as TVs and WiFi access, as well as a convenient outdoor shower offer additional indulgences, while the butler is available to address any need or wish.
---
Sunset Overwater Villa
With your own private access to the crystal clear waters of this magnificent lagoon, a private swimming pool, and awe-inspiring sunset views, this Maldives water villa is truly an unparalleled place in which to cap the day. As impressive inside as it is outside, the villa is a one-bedroom (78 sq. m.) retreat featuring plush bedding, comfortable seating areas, televisions and WiFi to remain connected, and a bathroom with a separate dressing area, shower, and free-standing bathtub. For premium service, a butler is available to fulfil any request, large or small.