CLUB MED GRAND MASSIF SAMOENS MORILLON - FRANCE
A stay at Club Med's Grand Massif Samoëns Morillon Resort, for exceptional family skiing or perfect choice for a family summer holiday in the mountains.
---
CLUB MED GRAND MASSIF SAMOENS MORILLON
Winter Season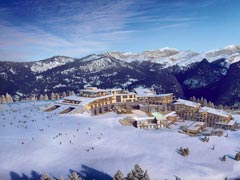 A ski holiday at Club Med's Grand Massif Samoëns Morillon Resort on the Plateau des Saix, stands at an altitude of 1 600 metres (5.249 ft). close to Geneva and Annecy, is the guarantee of an exceptional environment for an authentic ski-in ski-out mountain experience in the heart of the Grand Massif ski area. In a region renowned for its picturesque hamlets, the Club Med's contemporary Resort, with its fabulous panoramic view of the mountains, has been designed to blend in harmoniously with nature. When you come off the slopes, enjoy time at the pool with the children or chill out at Club Med Spa by CARITA.
---
CLUB MED GRAND MASSIF SAMOENS MORILLON
Summer Season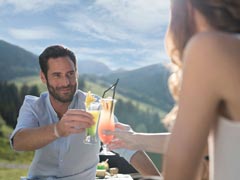 An all-inclusive holiday at Grand Massif Samoëns Morillon Club Med means a stay in a beautifully contemporary Resort located in an exceptional, breathtakingly beautiful setting. With Club Med, discover the wonderfully healthy mountain environment, perfect for recharging your batteries and pampering at the spa, Enjoy sports and activities for all ages, and discover the beauty of the region with our discovery programme.
---
BARS
Included: Drinks served by the glass and at the bar only: water, fruit juices and sodas, hot drinks and cocktails with and without alcohol, wines and local and international spirits. A selection of sweet and savoury snacks.
With Supplement: Champagnes, VSOP and XO spirits, bottled and canned drinks are available from vending machines in some of our Resorts and/or at the Club Med Boutique. Certain super-premium brands and bottled wines are also available à la carte in some of our restaurants and bars.
---
The Carillon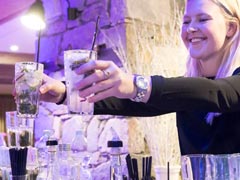 This lounge bar welcomes you into a warm and friendly, festive ambience.
---
RESTAURANTS
Each country has its own gastronomy, with sweet, savoury or spicey specialities. Discover a host of new flavours during your stay, and let your imagination lead the way, from breakfast through to dinner. Make the most of our Open Bar and Snacks formula.
---
Cozy Mountain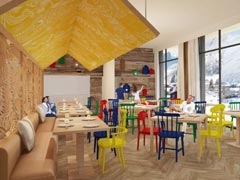 This restaurant with terrace welcomes you at all meal times for a range of international and local specialities. Focus on health and wellness, with plenty of fresh fruit and vegetables, light dishes and gluten free. Four dining rooms, each with its own individual ambience: La Rivière, Les Randonneurs, Les Sommets and La Prairie, with its dedicated family space.
---
Gourmet Lounge restaurant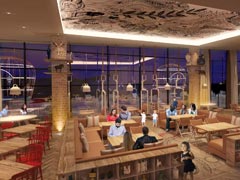 For gourmet moments in an intimate atmosphere with a panoramic view over the mountains, this restaurant offers an exclusive "Gourmet Lounge" dining experience. With its subtle blend of authenticity and contemporary spirit, the warm decor provides the ideal backdrop for great local produce. The space adapts to provide the perfect eating experience for every time of day, from gourmet picnic at lunchtime to tasty, comforting afternoon tea, or a discovery dinner created by French chef Edouard Loubet, with 2 Michelin Stars and 5 Gault & Millau Toques. And the restaurant's wine cellar* has a host of surprises in store; the wine waiter will help you choose the perfect wine to accompany your meal. * A la carte.
---
Bread & Co.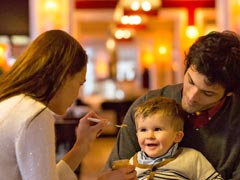 This new family restaurant allows kids to play "Petits Chefs", inviting their parents to share dinner. In this astonishing kitchen full of surprises, parents and children make together their dinner following unique, fun and tasty recipes highlighting bread specialties. The experience is fully interactive and digital! For dinner service booking is required. The restaurant serves lunch exclusively for Petit Club Med® and Mini Club Med® participants.
---
ACCOMMODATIONS
Grand Massif Samoëns Morillon is a brand new, beautifully chic and contemporary Resort, in an exceptional mountain environment.
---
Club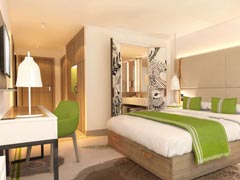 An elegant room, ideal for couples and families.
---
Deluxe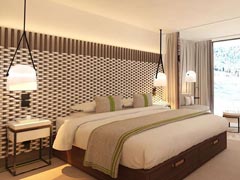 A Deluxe Room with a lounge area and elegant decor.
---
Suite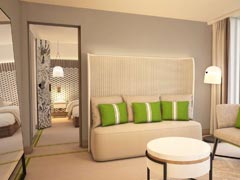 A spacious and elegant Suite, ideal for relaxing in a stylishly cosy ambience.
---
DESTINATION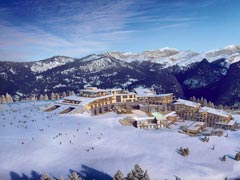 On the Plateau des Saix, a 75-minute drive from Geneva and Annecy. Ski-in ski-out in the heart of the Grand Massif ski area - all the pleasures of snow sports on 256 km of slopes. An exceptional panoramic view over the mountains from the hotel. See your children and teenagers in their element, from 4 months to 17 years old. Savour delicious local produce at the Gourmet Lounge restaurant.
---
KIDS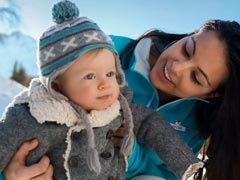 With the benefit of over 40 years' Club Med experience behind it, our Resort proposes innovative clubs for children and teenagers: Dedicated areas specifically designed for their needs, and equipment designed with a view to comfort and safety. G.O®s with a passion for their job. Numerous activities for all ages: sport, creative activities and games for the different age groups. Opening hours that allow parents to make the most of their stay, and respect the children's desires and sleeping patterns. For information: the children's clubs are open 6 days a week. G.O®s with a BAFA (State diploma for youth group leaders) or childcare qualification, depending on the age of the children.
Age-specific clubs: Baby Club Med® (from 4 to 23 months), Petit Club Med® (2 to 3 years), Mini Club Med® (from 4 to 10 years old), Club Med Passworld® (from 11 to 17 years old).
Hotel amenities and facilities for kids: BABY SITTING From 4 months to 7 years (extra charge), CLUB MED BABY WELCOME® (FROM BIRTH TO 23 MONTHS) Until 23 months, BABY CORNER, BABY FEEDING AND EQUIPMENT ROOM, SNOW GARDEN From 4 to 10 years.
Activities for kids: BABY GYM From 4 months to 3 years, "LEARNING TO SKI AND THE PLEASURES OF SNOW" COURSE From 3 to 3 years.
---
ACTIVITIES
Alpine skiing, Snowboarding, Club Med fitness, Multi Snow Sports Programme, Weights and cardio-training room, Aquadynamic, Swimming pool, Pilates, Walks, snow shoe walks and Nordic walking.