CLUB MED PUNTA CANA - DOMINICAN REPUBLIC
Only in the Dominican Republic can you enjoy a mix of colonial architecture and contemporary constructions, mountains and valleys, cliffs and mangroves. Kick back on the unspoiled beaches surrounded by pine trees, or dance the traditional merengue and salsa. This is the place to be!
---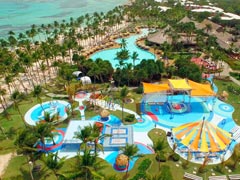 Discover Hispaniola Island, its colourful gardens and beaches. Alongside a fabulous turquoise lagoon in the Dominican Republic, Club Med Punta Cana welcomes couples and families for a stay in paradise. Between a 600-metre stretch of beach and a magnificent coconut grove, you'll enjoy premium services in an idyllic setting and the unique Club Med CREACTIVE by Cirque du Soleil experience - a creative playground with activities inspired by the best of the famous Cirque du Soleil shows! Discover Tiara, the 5-Trident Luxury Space in the 4-Trident Punta Cana Resort, and the new Zen Oasis for adults, the perfect hideaway if you're looking for peace, harmony and well-being.
---
BARS
Included: Drinks served by the glass and at the bar only: water, fruit juices and sodas, hot drinks and cocktails with and without alcohol, wines and local and international spirits. A selection of sweet and savoury snacks.
With Supplement: Champagnes, VSOP and XO spirits, bottled and canned drinks are available from vending machines in some of our Resorts and/or at the Club Med Boutique. Certain super-premium brands and bottled wines are also available à la carte in some of our restaurants and bars.
---
Cielo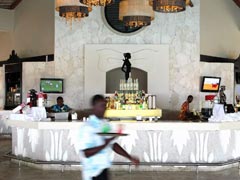 Located on the first floor of the main building, opposite the pool, this charming bar has elegant outdoor sofas and cushions, and a fresco of palm trees adorning the bar façade. This is a place to chill over cocktails with views of the sea and pool.
---
The Indigo Beach Lounge Bar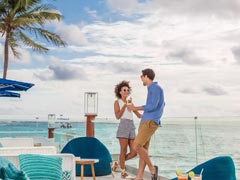 On one of the island's finest beaches in the shade of the coconut palms, this bar has a touch of the exotic and a festive note, with its spacious dance floor and terrace with a commanding view of the sea. An ideal spot for a refreshing break in the daytime or to dance the Bachata and the Merengue. At night the stars shine and twinkle between the coconut trees.The bar also serves light snacks.
---
Hibiscus Bar & Lounge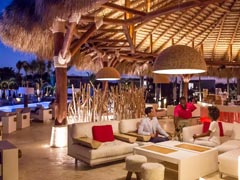 This adults-only bar provides the perfect Zen atmosphere to enjoy peaceful quality time relaxing by the pool. Enjoy healthy smoothies, teas and light snacks while blissfully soaking up the sun.
---
La Cave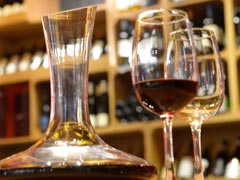 La Cave wine cellar* offers a wide selection of the finest French & world wines, champagnes and premium spirits, as well as a VIP table service at all the restaurants & bars in the Resort. You can also enjoy a glass of wine from the comfort of your room and even under the stars on the beach. (*A la carte).
---
RESTAURANTS
Each country has its own gastronomy, with sweet, savoury or spicey specialities. Discover a host of new flavours during your stay, and let your imagination lead the way, from breakfast through to dinner. Make the most of our Open Bar and Snacks formula.
---
The Samana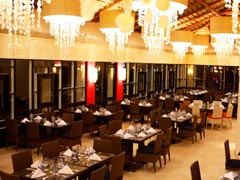 Take your taste buds to paradise at Punta Cana. The Samana has a newly revamped elegant and stylish interior and is located in a beautiful setting near the main bar and lagoon pool. The restaurant welcomes you for lunch and dinner from the buffet, with a great choice of local and international cuisine. High chairs are available for babies.
---
Hispaniola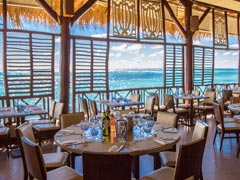 Under the shade of the palm trees, enjoy the breathtaking views from the restaurant terrace. Located by the water's edge, the sound of waves lapping against the shore is part of your dining experience. Serving international cuisine and delicious local dishes, a meal at L'Hispaniola will remain a vivid holiday souvenir. High chairs are available for babies. Check the website for opening times.
---
Indigo, Beach Lounge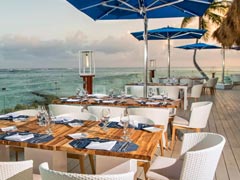 In a charming waterside location with a wonderful view over the lagoon, this restaurant, bar and lounge had a total makeover this winter and is the ideal venue for relaxing gourmet moments. You can have late breakfast, a light lunch by the water, or get a tasty takeaway to eat on the beach. You can also dine in an idyllic setting with table service (booking required). Enjoy local specialities, fish and sea food in a quiet ambience. As the night goes on, the restaurant turns nightclub and you can dance the night away under the stars. The bar is open all day, for drinks and refreshments a stone's throw from the water.
---
ACCOMMODATIONS
The Resort has 553 rooms in 3-storey bungalows painted in pastel tones. Ideal family accommodation, the bungalows are located in different areas of the Resort, surrounded by gardens.
---
Club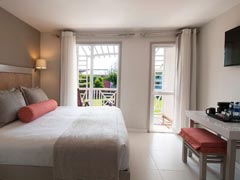 These rooms are located throughout the Resort (some are near the centre, others are farther away).
---
Deluxe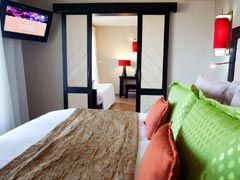 Deluxe Room comprising a room for the parents, separated from the children's bedroom by a curtain. Balcony and garden view.
---
5-Trident Luxury Space Suite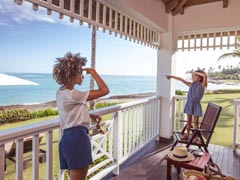 Luxury accommodation with seafront or pool view, Family Suites with Terrace and customised services, in the exclusive and private Tiara space.
---
Deluxe Zen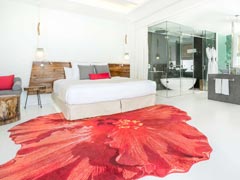 Located in the Zen Oasis - a haven of tranquility reserved for adults -these spacious and elegant rooms have contemporary design with a tropical influence, a double bed, and a terrace with garden or balcony with garden view. As part of our ongoing efforts to provide our guests with an enhanced resort experience, please note that the Zen pool will be accessible to all guests from September 1st to October 1st, 2017 due to the temporary closure of the main pool for renovation.
---
DESTINATION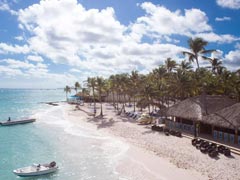 Staying on Hispaniola Island, in a warm and friendly Resort with a new, exclusive Zen Oasis for adults. Strolling in colourful gardens and along a half-mile stretch of beach, or trying your hand at kitesurfing or windsurfing. Seeing your children discover Baby Gym or having fun in the waterpark. Enjoying a massage under a palapa at Club Med Spa by L'OCCITANE or a round of golf near Club Med. A really relaxing family holiday in a 70 sq metre Suite in the 5Ψ Luxury Space.
---
KIDS
With the benefit of over 40 years' Club Med experience behind it, our Resort proposes innovative clubs for children and teenagers: Dedicated areas specifically designed for their needs, and equipment designed with a view to comfort and safety. G.O®s with a passion for their job. Numerous activities for all ages: sport, creative activities and games for the different age groups. Opening hours that allow parents to make the most of their stay, and respect the children's desires and sleeping patterns. For information: the children's clubs are open all week, except Saturday. In France, G.O®s with a BAFA (State diploma for youth group leaders) or childcare qualification, depending on the age of the children; in other countries, an equivalent local diploma or relevant experience.
Baby Club Med® (from 4 to 23 months), Petit Club Med® (2 to 3 years), Mini Club Med® (4 to 10 years), Club Med Passworld® (11 to 17 years)
---
ACTIVITIES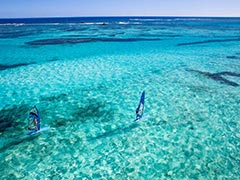 Activities included: Archery School, Fitness School, Golf School, Windsurfing School, Tennis School, Sailing School, Club Med CREACTIVE by Cirque du Soleil, Basketball, Beach volleyball, Table tennis, Yoga, Waterpolo, Tennis, Cardio and weights room, Kayaking, Swimming-Pool, Stand Up Paddleboarding.
Activities extra charge: Big game fishing, Scuba diving, Golf (green fees & courses), Surf, Horseriding, Snorkelling (outside Club Med), Waterskiing (outside Club Med), Kitesurfing, Tubing, Wakesurfing.