CLUB MED COLUMBUS ISLE - THE BAHAMAS
They do it better in the Bahamas! Their hospitality is second to none, the service is like no other. And all this in a setting of two thousand islands and keys, each with unspoiled beaches and crystal-clear water. What are you waiting for?
---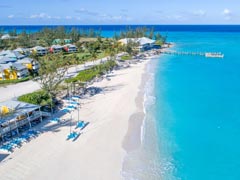 Elegance and relaxation on the shores of smooth turquoise water. What could be more heavenly than a holiday in the Bahamas? This is where Christopher Columbus set foot over 500 years ago, on a white sand Caribbean beach on the remote island of San Salvador. Renamed Columbus Island by Club Med, it is now a precious jewel in the Bahaman archipelago, dedicated to the conquest of new pleasures.
---
BARS
Included: Drinks served by the glass and at the bar only: water, fruit juices and sodas, hot drinks and cocktails with and without alcohol, wines and local and international spirits. A selection of sweet and savoury snacks.
With Supplement: Champagnes, VSOP and XO spirits, bottled and canned drinks are available from vending machines in some of our Resorts and/or at the Club Med Boutique. Certain super-premium brands and bottled wines are also available à la carte in some of our restaurants and bars.
---
The Verve Lounge and the Luna Café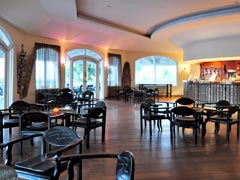 Between the pool and the theatre, the Verve Lounge and Luna Café show off two very different faces: a warm ambience with a string of fabulous, intimate lounges looking inwards, and a magnificent view over the pool and sea, looking outwards.The Verve Lounge has a cigar humidor (at extra cost) in the evenings.Smoking is only allowed on the terrace.
---
The Azul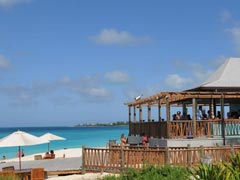 With its wooden terrace jutting out onto the beach, the Azul commands a fabulous view of the ocean.This is the ideal place to enjoy snacks and refreshments throughout the day.
---
La Pinta Beach Lounge Bar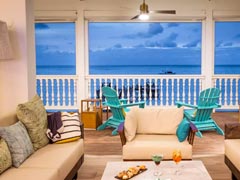 New, from the end of March, 2017, we invite you to discover this stylish lounge bar with a breathtaking view over the crystal clear waters of the Bahamas. Welcome to a laid back and peaceful location during the day, ideal for resting after a great day's diving. The perfect place to relax in comfy chairs, with a great selection of drinks available. Come evening, the atmosphere grows more sophisticated, perfect for an aperitif with friends or family.
As the evening turns to night, the bar turns nightclub, so you can dance the night away under the stars.
---
RESTAURANTS
Each country has its own gastronomy, with sweet, savoury or spicey specialities. Discover a host of new flavours during your stay, and let your imagination lead the way, from breakfast through to dinner. Make the most of our Open Bar and Snacks formula.
---
The Christopher's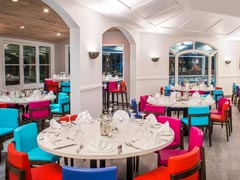 In a grand colonial-style style setting, the Christopher's is open from breakfast through to dinner, with an elegant terrace boasting fabulous sea views. Enjoy the best of Bahaman cuisine, as well as a great selection of dishes from around the world. Smoking is permitted on the terrace.Tables sit 2 to 8 people.
---
La Pinta Beach Lounge Restaurant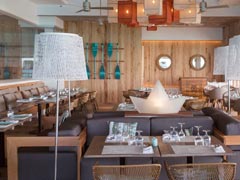 New, since April 2017, we invite you to discover this stylish restaurant & lounge space with a breathtaking view over the crystal clear waters of the Bahamas. Welcome to a beautifully laid-back space by the ocean, ideal for a late breakfast, or light lunch. The Pinta Beach Lounge is a haven of relaxation and tranquility, with comfy chairs, a great variety of drinks, and all-day dining options. Come evening, you'll love the refined atmosphere and great dining with table service.
---
ACCOMMODATIONS
216 rooms in bungalows with one upper storey. Colourful, colonial-style architecture. All the rooms are in tranquil locations.
---
Club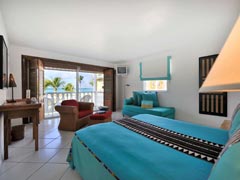 Relax in this haven of tranquility, in harmony with the beauty of your surroundings. You might like to opt for an interconnecting Club Room.
---
Deluxe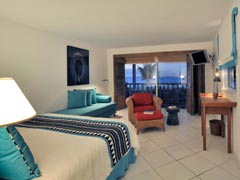 This room offers you tranquility and a fine view of the sea and the Resort gardens.
---
DESTINATION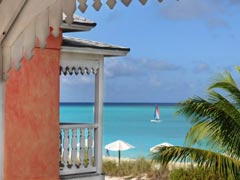 Like Christopher Columbus, landing on a paradisiac desert island. Discovering the elegance of a colonial style Resort. Learning yoga or perfecting your game on the tennis courts. Relaxing in one of the two restaurants, by the turquoise sea in the Bahamas. Marvelling at the wonderful underwater life at one of 20 Scuba diving spots.
---
KIDS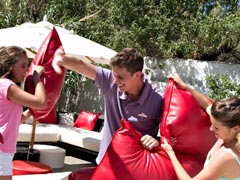 Resort welcoming children from 2 years old, with children's club facilities from age 11. Junior Club Med (11 to 17). Only in July and August, teenagers can meet up and take part in the activities that interest them most, in the company of their G.O®s: Sports activities: table tennis, beach volleyball, windsurfing, kayaking, etc. Artistic activities: dance, shows, crazy signs. Evening: entertainment, films, shows.
---
ACTIVITIES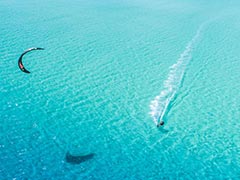 Activities included: Fitness School, Tennis School, Sailing School, Waterskiing & Wakeboarding School (summer only), Beach volleyball, Snorkelling, Table tennis, Tennis, Windsurfing School, Weights room, Kayaking, Stand up Paddleboarding.
Activities extra charge: Fishing, Scuba diving, Cycling, Kitesurfing (proposed from November to May).