Bandos Maldives
- North Male Atoll, Maldives
Highlight
In the middle of the Indian Ocean sits the island of Bandos. A picture perfect paradise hidden away from life`s everyday stresses. The clear blue water, vibrant plant life and white sandy beaches create an immediate feeling of tranquility. .
promo paket
Starting (/package net):
IDR 26.366.184
Starting (/package net):
IDR 59.756.391
hotel review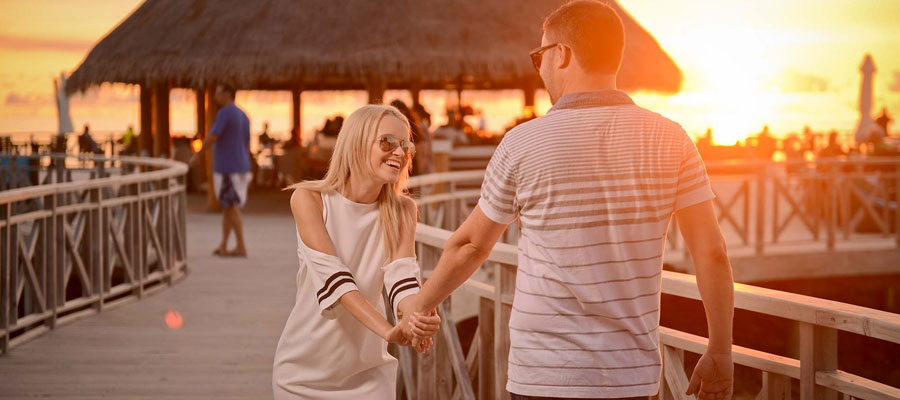 In the middle of the Indian Ocean sits the island of Bandos. A picture perfect paradise hidden away from life`s everyday stresses. The clear blue water, vibrant plant life and white sandy beaches create an immediate feeling of tranquility. .
From the moment you arrive you will see first hand  the friendly, attentive service that has earned Bandos the reputation of the 'Island of Hospitality'.
Bandos Maldives is ideally situated on North Male` Atoll, just a 10-minute speed boat ride from Male International Airport.
Bandos Maldives is well known for being one of the best family friendly resorts. You can relax and enjoy whilst your young ones are having the time of their life.
ACCOMODATION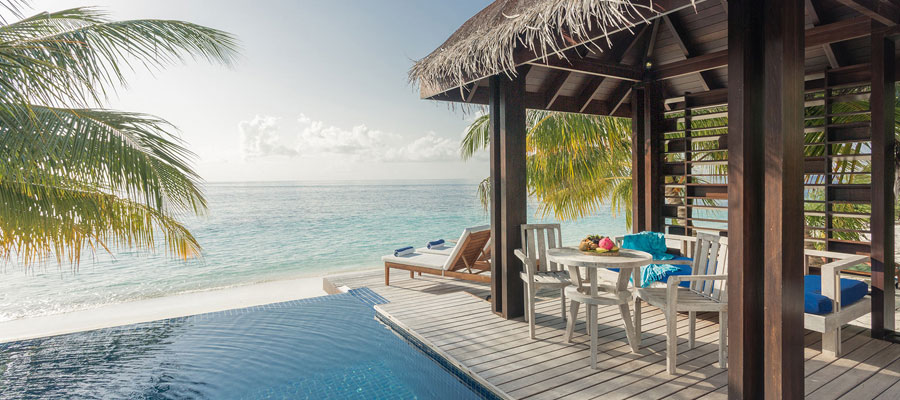 From the ultra-exclusive and luxurious Water Villas, to the standard rooms, the accommodation options are very clearly reflect the diverse tastes and requirements of our clientele.
STANDARD BEACHFRONT ROOMS
With their simplistic elegance quite strongly reflect all that is good about Bandos; the unyielding attitude towards settling for anything less than the highest quality and unrivaled customer satisfaction.
GARDEN VILLAS
Conveniently located within reach of swimming pool and clubhouse, our Garden Villas are a blissful marriage of traditional Maldivian style architecture and all the comfort and luxury of a contemporary island resort. The decorated wooden chalets offer extensive secluded outdoor decking area, ensconced within our beautiful manicured gardens.
DELUXE BEACHFRONT ROOMS
Spacious and inviting with several amenities at your disposal. Both living and bedroom areas are topped off by uniquely thatched high ceilings and parquet flooring. With the possibility for interconnecting rooms, these rooms are ideal for families with children, due to the spacious layout.
SUPERIOR VILLAS
With whitewashed interiors and modern furnishings, the Superior Villas are a class apart. The bathrooms ooze style, with mosaic detail and outdoor showers. Surrounded by lush, tropical vegetation, these villas are the perfect setting for your holiday in the Maldives.
BEACH VILLAS
The perfect fusion of traditional Maldivian architecture with whitewashed interiors and thatched roofs, these villas you will find all modern conveniences, and stylish minimalist decor. Beach Villas have direct access to the white sandy beach and come with a bathtub and an outdoor shower.
PREMIUM BEACH VILLA
Our Premium Beach Villas, set a mere stroll away from your exclusive strip of the beach, is the perfect tropical getaway for couples and small families. Designed with comfort and luxury in mind, the two-floor Villa features ample living space on the ground floor, a large sundeck, and a modern bathroom with an outdoor jetted tub. The upstairs bedroom, with its balcony and floor-to-ceiling windows, offer unparalleled beach vistas that you will cherish for a lifetime.
BEACH POOL VILLA
A luxurious modern villa is with a private infinity swimming pool and cabana style sun deck. The Beach Pool Villa has a state of the art king size bed, rustic wooden furnishings and a serene, romantic atmosphere for those looking to relax and unwind in style. The spacious jetted tub adorns the en-suite bathroom, where one can enjoy a luxurious soak.
WATER VILLAS
The perfect escape for honeymooners and couples, our Water Villas offer privacy, seclusion, and uninterrupted views of the ocean. With your own private infinity pool and direct access to the beautiful turquoise lagoon, the modern and chic water villa allows you to soak in all of Maldives' beauty. This is the idyllic romantic getaway you have been searching for you and your partner.
EXPERIENCE
To make your holidays enjoyable at Bandos Maldives, and to help you discover the magic of Maldives, We have designed an exciting range of experiences, tailored just for you.
EXCURSIONS
Excursions in Bandos Maldives are subject to additional charge based on Resort. The Excursions are Night Fishing, Island Hopping, Snorkeling Trip, Sunset Dolphin Cruise, Male Tour, Glass Bottom Boat, Sand Bank Picnic, Whale Shark Expedition
CLUBHOUSE
Keep fit, unwind and simply have fun at our Club house sports complex. Enjoy beach volleyball or tennis on our flood-lit courts, relax and unwind at our steam bath or Sauna, or take advantage of our fabulous fitness suite, equipped with state-of-the-art equipment. The fitness suite is open to all guests free of charge. Guests seeking a slower pace can unwind in our lounge and entertainment area and catch up on the latest news and sport from around the world. Board games and table tennis are also on offer, ensuring there's something for everyone in paradise.
FAMILIES
Looking for a family friendly resort? Get some relaxation and me-time during your holiday by dropping your children off at the Kokko's Kid Club where they can enjoy stimulating activities under the careful watch of qualified child minders!
At the Kid's Club which is open from 0800hrs-1700hrs, children are entertained and can make new friends while parents enjoy a dive or sunbathing on the beach. There are a range of dining options for parents to pre-order from for meals and snacks for their children while they are away.
Activities range from arts and crafts, cooking lessons and treasure hunting to reading a book or playing a board game during a rainy day.
WATER SPORTS
In a country that is more water than land, the possibilities for fun-filled aquatic activities are almost inexhaustible. Whether it is the turquoise of the lagoon, or the azure blue of the rich coral reefs, or even the vast, mystical expanses of the ocean deep, the waters surrounding Bandos offer limitless opportunities to explore. The Water Sports Centre at Bandos is staffed with professionals who are highly skilled in their craft and are fluent in English, Japanese and German. Snorkelling, water skiing, parasailing, banana boat riding, wakeboard, knee board, fun tubes and canoeing are just some of the activities at your disposal during your time here. The Water Sports Centre here at Bandos also offers top notch catamaran and windsurfing facilities, with top of the range equipment from HiFly, North Sails and Topcat among others.
GIFT SHOPS
Take something to remember your vacation or for your loved ones back at home from your wonderful vacation at Bandos Maldives. We have three shops located at the reception area with varying items – from necessities to souvenirs to gifts.
HOUSE REEF
Immerse yourself in the wonders of the fascinating underwater world around us. Snorkel at our house reef, which is just a few meters away from the beach, or SCUBA dive with internationally certified courses available at Dive Bandos. There is a pristine underwater haven waiting to be explored.
BIG GAME FISHING
Your stay at the lovely beachside villas at Bandos will not be complete without an adventurous excursion. Inspired by our rich fishing tradition, we offer you one of the most exciting excursion to truly enjoy your holiday the 'Maldivian way'. Gather your friends to form a team of 4 and take the morning boat for a fishing expedition; explore the large monsters of the deep ocean. These extraordinary fish weight up to 70 kilos and grows up to 8m or more. We offer trolling and casting techniques, Baracudda, Sail fish, Mahi Mahi, Wahoo, Marlin and Tuna are popular with trolling method. Giant Travelly, Red Snappers, Groupers are more common with casting.
DINING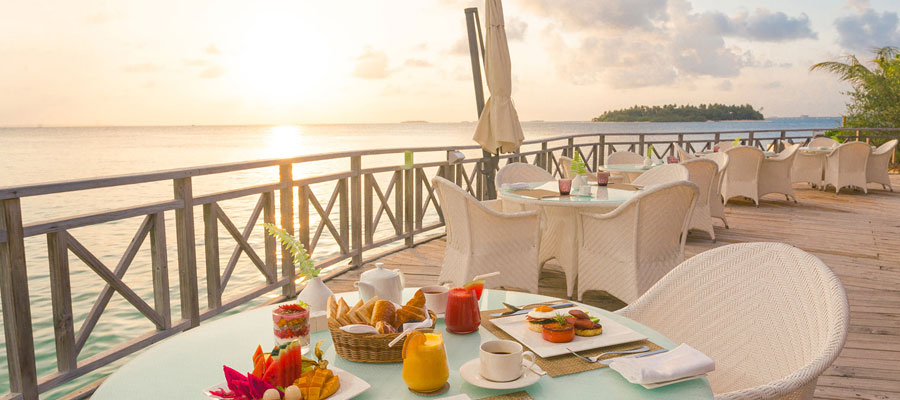 GALLERY RESTAURANT
The Gallery – consisting of three spacious halls open for breakfast, lunch and dinner is the main restaurant at Bandos. Serving up elaborate buffet-style dining with a wide choice of dishes, guests can relax knowing that all tastes are catered for them.
GRILL BAR
Combining contemporary interior with a rustic look and feel, the Grill Bar is situated on the north-eastern side of the island. Guests can choose to be seated either indoors or out on an overwater deck, which offers breath- taking views of the Ocean. The Grill Bar offers a variety of seafood and meat, grilled to your liking and served with a homemade sauce of your choice. Pair your freshly-grilled platter of seafood or meats with a glass of wine, or just grab your favorite drink from the bar and head out on to the deck and let the lingering breeze relaxes and soothes your mind and soul.
SEA BREEZE
Aptly named, the Sea Breeze Cafe is situated at the edge of the water where customers can lounge on the large outdoor over-water deck and enjoy the breathtaking view of the lagoon while relaxing in the gentle breeze. Open round the clock, the restaurant offers a wide variety of dining options from a la carte offerings such as spaghetti or even authentic Indian curries to alternative fast-food fixes such as pizza and hamburgers.
HUVAN
Huvan, which means blue skies and calm sea, is the best place to view the stunning Maldives sunset.
The enormous sundeck allows you to unwind under a star-filled night sky or while admiring the dazzling blue horizon. In the evening soft music fills the air while you wonder at the dreamy tones of another glorious sunset.
SAND BAR
The classic island bar is ideal for guests to enjoy one of our many tropical cocktails or any other beverage that suits their fancy. The Sand Bar is designed with fun in mind to offer our guests a wonderful time with our top-notch karaoke facilities, live band or discotheque evenings.
POOL BAR
The swim up bar in our pool is located in the midst of the beautiful surroundings of palm trees and blossoms with their lush fragrance. A chilled drink is all you need to bring out the sunny spirit within you. Relax under the shade with your loved ones and feel the bubbles of its jetted stools.
UMI YAKI
Umi Yaki translates to `grill by the sea` which is fitting as guests can enjoy beautiful views in the open air restaurant during their dinner. Sit around teppan hot plate and watch as our chefs skillfully cook your food in front of you, using their theatrical skills, flipping and juggling and with a dash of fire, your meal is prepared for you before your very eyes.
ALL INCLUSIVE OPTION
All Inclusive Package is now available at Bandos Maldives. Included in the package is breakfast, lunch and dinner in the Gallery restaurant, as well as alcoholic and non-alcoholic drinks at the Sand Bar, Huvan and Gallery restaurant. The package also offers a variety of sports and entertainment. Enjoy a holiday getaway today at the white-sand beaches of Bandos Maldives at a great value.
PRIVATE DINING
Intimate Dinner
Experience a private dinner on the beach. The couple sit surrounded by candles and soft music while a private chef serves delicacies of Bandos exclusively to the couple.
Candle-Lit Dinner
Candle-lit dinner is arranged at the beach of our most romantic sunset restaurant, The Huvan. Soft music plays in the background while dining under a dark sky lit up by millions of stars.
Lobster Dinner
The perfect romantic choice for just the two of you.
ORCHID SPA
Orchid Spa offers a variety of wellness services that relax, re-align and rejuvenate. There are many positive aspects to receiving massage therapy and with the busy lives we lead, we can all benefit from a little stress-management.
DIVE BANDOS
Dive Bandos is one of the longest established centres in the country and our professional staff will ensure that you experience the lush underwater gardens, colourful fish and magnificent seascapes in total safety. The Dive Centre is a spacious facility complete with air-conditioned audio visual classrooms, library, hot water showers and large storage rooms.
The convenient location of Bandos in the southern part of the North Male Atoll offers access to over 40 impressive dive sites.
MEDICAL CENTRE
Though we are located a few minutes away from the capital city of Male`, our guests safety is priority and we have a clinic and pharmacy on site. Medical assistance is available around the clock, with a General Practitioner, and a Nurse on location.
In all emergencies, our Medical Clinic with a Decompression Chamber is at your disposal, with two Medical doctors (European), a General Practitioner and a Dive Medical Officer and a Nurse on location 24 hours.
Hotel Highlight
address:
Bandos Island, 08480 North Male Atoll, Maladewa
- North Male Atoll